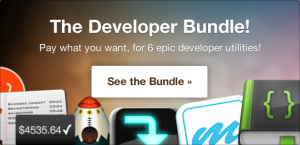 I am excited to announce that Code Journal has joined the awesome Paddle Developer Bundle! For those of you who have never bought a Paddle bundle, they are pay what you want software bundles in the spirit of the Humble Bundle.
Even if you already have Code Journal, pick up the bundle anyway to get other great applications such as Marked and VirtualHostX.
As always, Code Journal is a Apple developer signed app and customers of who opt to purchase via the Paddle bundle will receive updates via email.
Happy Shopping!